Submit to Conference Proceedings (CPCI)
1.All Manuscripts of ICLACE 2022 reviewed by experts from the conference organizing committee will be accepted and published on Conference Proceedings. The published papers will then be submitted for CPCI-SSH and CNKI abstracting/indexing.
Submit to Online Journal
2. If you would like your manscript to be indexed by CNKI & Google Scholar, there is an international Journal for you.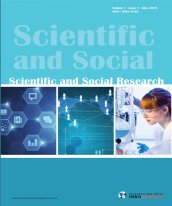 Scientific and Social Research(SSR) publishes papers devoted to quantitative social science research and methodology. The journal features articles that illustrate the use of quantitative methods to empirically test social science theory. The journal emphasizes research concerned with issues or methods that cut across traditional disciplinary lines. Special attention is given to methods that have been used by only one particular social science discipline, but that may have application to a broader range of areas with an ultimate goal of testing social science theory.
Contact number: +86-13502444340 (Doris/王老师)
Note: All submitted articles should report original, previously unpublished research results, experimental or theoretical. Articles submitted to the conference should meet these criteria and must not be under consideration for publication elsewhere. We firmly believe that ethical conduct is the most essential virtual of any academic. Hence any act of plagiarism is a totally unacceptable academic misconduct and cannot be tolerated.